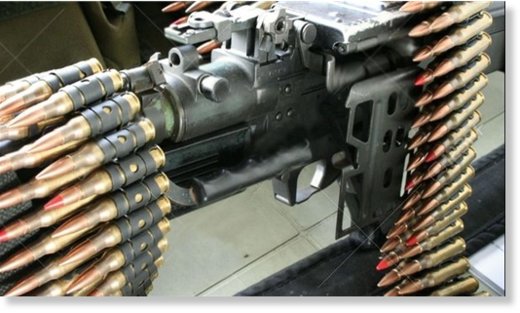 Field sources in Aleppo have witnessed new weapons in the strongholds of terrorists in Syria which need 6 months of training before use.
The new heavy machine guns have been produced in France and supplied to the militants in Syria by Saudi Arabia, the sources said on Sunday.
"It seems that a special group has received training in Jordan on how to use the new weapons, then moved long from South to the North to Aleppo and used them in clashes near the military academy region in Southern Aleppo," they added.
According to the field sources, the heavy machine guns have been built in France and have two barrels capable of firing 3,000 rounds in a minute in a way that they cannot be traced by eyes.
The sources said that the barrels of the machine guns should be changed every three hours, adding that changing the barrels needs 10 minutes.
Using the new machine guns also needs a team of specialists and a cargo of ammunition, they said.
Reports said in June that Saudi Arabia has sent new cargoes of weapons and financial aid to the terrorists in Aleppo in Northern Syria to strengthen them against the Syrian army and its allies' fresh attacks, a source said.
"The Saudi regime has recently sent small arms, heavy machine guns and new equipment, including 5 drones, to the terrorists in Syria," the source said.
To this end, Riyadh has sent one of its ranking officers to the regions controlled by terrorists in Northern Aleppo to supply them with money and arms to intensify attacks and open new fronts against the Syrian army and popular forces, the source added.