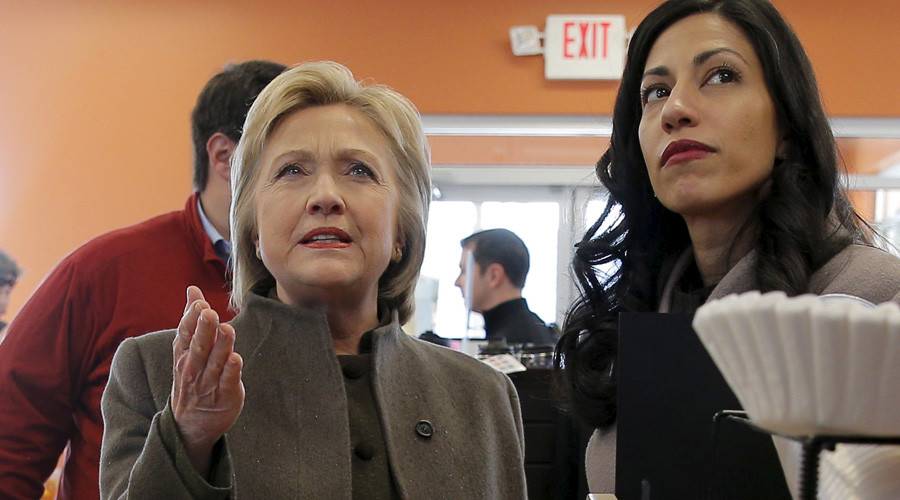 Hillary Clinton and Huma Abedin © Brian Snyder / Reuters
Another 1,100 or so emails from the account of Hillary Clinton's campaign chair John Podesta have been released by WikiLeaks – the second such release in a day – after the State Department published 1,250 pages of Clinton's emails.
The 28th batch of Podesta's emails has been dubbed the "Department of Justice/FBI/Huma [Abedin] special" by WikiLeaks, referring to Clinton's aide implicated in the FBI's most recent email probe.
RELEASE: The Podesta Emails Part 28 – DoJ/FBI/Huma special #PodestaEmails https://wikileaks.org/podesta-emails/?special&q=&mfrom=&mto=&title=&notitle=&date_from=&date_to=&nofrom=&noto=&count=50&sort=6#searchresult …

More: https://wikileaks.org/podesta-emails/?q=Comey|jcomey|comeyj|jamescomey|Loretta|Lynch|llynch|lorettalynch|lynchl|FBI|DoJ|Weiner|Wiener|aweiner|weinera|anthonyweiner|Huma|Abedin|ahuma|humaa|humaabedin|%22department+of+justice%22|server|%22her+emails%22|kadzik|pkadzik|peterkadzik|kadzikp|Giuliano|mcgabe|amcgabe|mcgabea|andrewmcgabe|Mueller|robertmueller|muellerr|rmueller|%22Sally+Yates%22|syates|yatess|sallyyates|Carlin|jcarlin|jpcarlin|carlinj|carlinjp|johhnpcarlin|johncarlin|breuer|lbreuer|breuerl|labreuer|breauerla|larryabreuer|larrybreuer|jamesmcole|jamescole|jcole|jmcole|colej|colejm|williamjbaer|williambaer|billbaer|wjbaer|wbaer|baer|baerw|baerj|baerbill|raymondhusler|rhusler|huslerr|husler|vvllar|evvillar|evillar|velezvillar|gowdy|pagliano|bpagliano|chaffetz|combetta|%22paul+combe%22|pcombe|combep|%22bill+thornton%22|bthornton|%22Platte+River%22|%22Plate+River%22|PRN|bengazi|bengazzi|bengazii|%22ambassador+stevens%22|%22christopher+stevens%22&mfrom=&mto=&title=&notitle=&date_from=&date_to=&nofrom=&noto=&count=50&sort=6#searchresult …

WikiLeaks – The Podesta Emails

WikiLeaks series on deals involving Hillary Clinton campaign Chairman John Podesta. Mr Podesta is a long-term associate of the Clintons and was President Bill Clinton's Chief of Staff from 1998 until…

wikileaks.org
Despite the sensationalist headline, there doesn't seem to be much in the release related to Abedin, the DOJ or the FBI.
A March 17, 2015 email chain shows the staff discussing Clinton's use of personal email while at State Department.
"…it was her practice, as well as ours, to conduct work on the .gov system," argued senior aide Philippe Reines, in response to questions from the New York Times.
"They are looking at HER email, not ours. They don't know what next step we took," Reines wrote. "If they've somehow seen some of the other 55k, we'd need to see each to determine what they were."
Following a Bernie Sanders victory in the New Hampshire primary, the Clinton staff scrambled to find information on the Democratic "super delegates."
READ MORE: 'Obama betrayer & false promiser': Sanders blasted in #PodestaEmails 27
"Can you get a breakdown of the superdelegates? Race/ gender etc," wrote Bill Clinton's assistant Tina Flournoy on February 12, 2016. "And some biographies of some of the superdelegates."
"Just so I'm clear – we're looking for a press strategy on this? Or a strategy to retain our people?" Robby Mook wrote back.
"Both," Flournoy replied.
"Did somebody send this to HRC?" Abedin chimed in.
On August 7, 2015, the Clinton staff exchanged several messages about a proposed press statement regarding the email issue. After two drafts and some tweaks, deputy communications director Kristina Schake writes that, after consulting Podesta, "we shouldn't put out the statement at this point because it is so late in day on a Friday the press is bound to respond negatively and it will defeat our purpose in framing this."

Clinton spokesman Brian Fallon sent a note on May 18, 2015 that "DOJ just filed a briefing saying the gov't proposes releasing HRC's cache of work-related emails in January 2016."
"get out!???" replied Cheryl Mills, a senior Clinton aide.
Communications Director Jennifer Palmieri responded by arranging an early-morning phone call, to include "Huma and Podesta since this will be a thing tomorrow and she is in front of the press."