As the possibility of the Syrian government and their allies prevailing in their fight against terrorists approaches, Israel is interceding to do everything it can to prevent that outcome, says investigative journalist Rick Sterling.
The Israeli Defence Forces (IDF) fired at a "Syrian military artillery position"on Saturday in response to "projectiles launched" at Israel from Syria, the IDF said on Twitter.
In response to projectiles launched @ Israel from Syria, IDF targeted the Syrian military artillery position that was the source of the fire
This attack follows five almost identical incidents in the Syrian and Israeli sections of the Golan Heights over the past week.
While no casualties have been reported on the Israeli side, two Syrian soldiers were reportedly killed by Israeli fire last Saturday.
Investigative journalist Rick Sterling says the situation could escalate, as Israel now seems to be launching cross-border strikes into Syria on an almost daily basis.
"As the Syrian army advances and slowly but surely is crushing the armed opposition, the terrorists within Syria, Israel is escalating its attacks and its intervention. It should be noted that where these projectiles are falling is actually Syrian territory; it is Israeli occupied Syria," he told RT.
Meanwhile, the Assad government is not in the position to retaliate against Israel, the journalists said.
"They've got so much fighting going on within Syria. There are so many terrorists and so-called moderate rebels that are allied with Al-Qaeda and Al-Nusra. They've got their hands full right there, and they don't need it escalating with Israel. It is really dangerous," he said.
"It is extremely dangerous. It is clearly a violation of Syrian sovereignty. Also, Israel is attacking Syria, even if the so-called projectiles come from the terrorist groups there. So, they're using this as an excuse, and it has been pointed out that the terrorists can just fire some projectiles into the Israeli occupied territory and get the Israeli to come in and to attack the Syrians in alliance with terrorists," Sterling said.
The Golan Heights has been a contested area since it was captured by Israel during the Six-Day War in 1967. The journalist noted that Israel has been actively involved in the Syrian conflict "from the start supporting the terrorist campaign."
"The former Israeli ambassador Michael Oren, who was the ambassador to the US – he said explicitly they would prefer the terrorists to the Syrian government. He said: 'We'd prefer the people we don't like, who aren't associated with Iran to those who are.' Israel has a lot at stake here. They are hell-bent on preventing the Syrian government from stopping terrorism, because they would view that as basically it's Hezbollah and Iran in alliance with Syria, which is fighting terrorism in Syria," he said.
View image on Twitter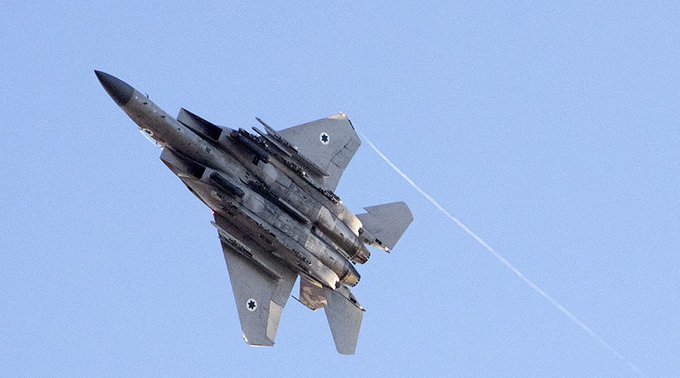 RT

 ✔

@RT_com
Israeli air force strikes Syrian military position after a projectile launched towards Israel http://on.rt.com/8gmi 
Twitter Ads info and privacy
"As the possibility approaches of the Syrian government and their allies prevailing in the conflict, Israel is interceding to do everything they can to prevent that," Sterling concluded.
Massoud Shadjareh, the chairman of the Islamic Human Rights Commission, has stated that Israel's retaliation is not justified, while also labeling the latest developments as "extremely dangerous."
"I think it is now very clear that Israeli government and the military are actively involved against the Syrian government. Around nine months ago there were many photographs and evidence presented that Israeli armed forces and, indeed, medics were bringing these terrorists who are opposing the Syrian government into Israel and giving them medical treatment, and then sending them back. Last month [it was reported] that the Israeli government is involved in financing these rebel groups," Shadjareh told RT.